The concept of mentoring has been an MDRT staple since the beginning — members helping those who aspire to join find solutions to qualify. It's crucial for the long-term success of the aspiring member, it's essential for the member by keeping them on track and by revisiting best practices with a peer. But now there is more to it.
MDRT's all new mentor-mentee online matching program will now connect nonmembers with MDRT members and existing MDRT members with more-seasoned MDRT members.
"MDRT is a knowledge bank of financial service professionals. The biggest resource is the membership itself; interacting with MDRT members will change your mindset of how the financial profession is growing."
Sanjay Tolani, Ph.D., MBA
MDRT Member


HOW DOES THE MENTORING PROGRAM WORK?
Members and mentees can be from anywhere in the world. Your online profile preferences will match you to suggested colleagues, and MDRT will give your team the tools to guide your mentorship.
Open year-round, online. We'll help match you:
Mentees – fill out your profile, search for MDRT mentors and get matched up with a member ready to get you to where you want to be

Mentors – pass on your knowledge to one, or more, financial advisors who are seeking out professional advice
MDRT will send you the tools to get your relationship going so you can:
Follow a 12-month program
Set milestones together
Set goals as a team
Track your progress
There is no charge
---

ARE YOU RIGHT FOR MDRT'S MENTORING PROGRAM?


Nonmember Mentee

Nonmember mentees looking to achieve MDRT production levels
Anyone in the financial services industry
Have not been an MDRT member for more than a year
Currently not producing at MDRT membership levels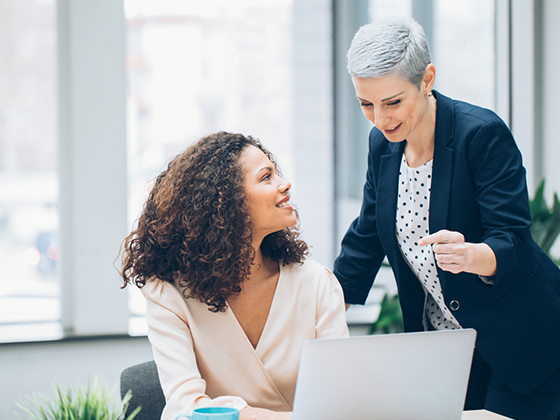 MDRT Peer Mentoring for

Member Mentee

MDRT members looking to boost their careers
Any current MDRT member with a desire to grow through a one-on-one peer relationship with a mentor






MDRT

Member Mentors


MDRT members willing to share their pathway to success
Any current MDRT member with a desire to share their knowledge with another financial services professional in a mentor relationship.


---
If you have additional questions, please email mentoring@mdrt.org
Mentees: To attend the 2021 Virtual Annual Meeting
A Mentee must be enrolled and connected in the program by March 31, 2021.
Production will not need to be reported to qualify.
The Mentor does not need to be registered for the Mentee to attend.
This will not count toward the Mentee's two opportunities to attend a future meeting in-person.

*Mentees who attends the Virtual Meeting are still eligible to attend the 2021 Global Conference in-person by meeting the below criteria.
To qualify as a Mentee to attend the 2021 GLOBAL CONFERENCE, the following criteria must be met:
A Mentee must have been enrolled and connected in the program by March 31, 2021
The Mentor must be a current 2021 MDRT member
Their Mentor must be registered to attend the same meeting
A Mentee will need to achieve 50% or 75% of the production requirements for 2021 MDRT Membership, in either commissions or premiums to qualify to register to attend a Meeting. This production will need to be reported by March 31, 2021. If a Mentee reports the production, a signed completed certifying letter is also required. If the production is reported for the Mentee by their company, then a certifying letter is not required. A copy of a certifying letter can be found in the Help Resources in the Mentoring Platform, or at https://www.mdrt.org/becoming-a-member/. The production is based on total from year-end 2020.
2021 Mentee Meeting Production Requirement-50% -first time attendee:
Commissions USD: $ 30,500 OR Premiums: $61,000
2021 Mentee Meeting Production Requirement-75%-second time attendee:
Commissions USD: $ 45,750 OR Premiums: $91,500
The MDRT Mentoring Program:
MDRT has introduced exciting new changes to the Mentoring Program with a full rollout of the new online platform.
We understand the challenges facing new producers as they enter this business, and we recognize that a strong mentor can make the difference between success and failure. The revamped Mentoring Program provides a more robust structure and enhanced tools — with the goal of facilitating quality mentor-mentee relationships. It also includes resources to help with goal setting, milestone tracking, task management, data analytics and progress reports.
Our goal is to enhance the mentoring experience to drive increased productivity, engagement and professional growth.
MDRT Mentoring Program FAQs
How much does it cost? Enrollment in the MDRT Mentoring Program is free.
What are the requirements to enroll? There is no production requirement. However, production must be reported by March 31 (for the preceding year) to be eligible to register to attend the Annual Meeting or Global Conference.
You must also have a unique email address.
When can I apply? Enrollment in the MDRT Mentoring Program is open year-round.
How long is the program: The program is a 12-month guided plan
Who is eligible to be a mentor? All mentors must be current MDRT members.
What is included in the MDRT Mentoring Program? Mentoring teams receive access to MDRT's Resource Zone, as well as monthly emails highlighting a piece of content that can be used for fruitful conversations. The new platform will include facilitated online matching, tools for goal setting and tracking, milestones and best-practice training.
How do I join the MDRT Mentoring Program? Enroll at mdrt.org/mentorship. Click on "Enroll in Program" and complete your profile. The system will prompt you and provide you with the best match for a mentor.
You must also have a unique email address.
Do both halves of a mentoring team need to enroll? Yes.
How many mentees can a mentor have? The best practice is no more than two mentees per mentor.
What happens if I'm not engaged once I enroll? Participants must log in and have activity in the platform within 120 days from date of connection or the connection will close, and they will no longer be enrolled in the program.
Is there a limit to how many times you go through the program? No, there is no limit to the number of times you can go through the 12-month program.
How do I find a mentor? The platform facilitates self-matching and allow the mentee to "filter" for criteria when selecting a mentor, such as country, language, company, etc.
Is there training for a new mentor? Yes, the program provides training in best practices for the mentor and the mentee.
What other MDRT benefits come with being enrolled in the mentoring program? A mentee may be eligible to attend the MDRT Annual Meeting or Global Conference with their mentor if they meet certain criteria. Please contact mentoring@mdrt.org for more details.